The Story Behind Blakes Organic Coffees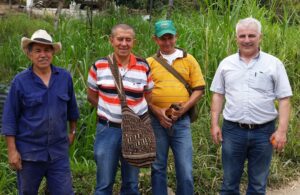 (John with a group of Colombian Coffee farmers in 2018)
Tell us about yourself. How did you get into roasting and selling coffee? What is your background?
Our company, Blakes Always Organic Ltd, started out as Blakes Organic Chocolate Ltd, a small business based in Cheam go to Galway, and the original owner of the start-up company wanted to create healthy, Organic and Fairtrade chocolate. Unable to find a company to make this quality Organic and Fairtrade chocolate within Ireland. the chocolate was imported from Switzerland. We bought the company as a going concern, but wanted to create home-grown Irish Organic products. 
At around this time, one of our owners/directors, John Brennan, was working with Colombian coffee and cocoa producers to help them set up a Farmers Cooperative, the better to get value for the products. He travelled to Colombia and saw first-hand the conditions that farmers worked in. Therefore, Organic coffee was an obvious product choice for us. With the help of a local coffee expert in Carrick-On Shannon, in 2016, we launched our first blend of whole bean coffee: Blakes Always Organic 'Culture Blend' Coffee. This blend won the Bord Bia Organic award in 2017 for the Best Prepared Product category, despite stiff competition. In the Summer of 2018, we were proud to add a second blend of coffee to our products:  Purely Arabica Blend, and recently launched a third Organic coffee: a Peruvian Arabica, decaffeinated using the CO2 method rather than solvents for a coffee with all the flavour but little or no caffeine. 
We also started producing Organic Kefir, hear in Drumshanbo, County Leitrim, made from locally sourced Organic milk. With the successful launch and ever-growing demand for these products: our Organic Coffee range and our Organic Kefir, we decided to close down the chocolate side of our business and focus our energies on locally produced Irish products instead. With this decision came the need for a new Company name Blakes Always Organic Ltd. 
Where do you source your beans? What is special about that area? 
We source our Organic Coffee beans from various different regions of the world, through a reliable distributor in the Netherlands, Initially, we consider the single origin coffee, and there were few worthy candidates, but by blending different beans in different areas, we found that we got better results than you would get from a single origin bean. Therefore, in our first blend of coffee, we spent a lot of time mixing and blending beans, and the proportions of different beans within the mix, trying to find the unique flavour that we wanted for our blend.   
Choosing an Old World bean, such as the Indonesian Raja Gayo Arabica, that is at the heart of our Culture Blend, we found a coffee bean that was rich in flavour, but that also gives plenty of body to the blend. Added to this, we brought some 'New World' beans from Peru in South America, well-known for their fruity light, delicate flavours. To this we added a small amount of high quality, Indian Cherry Robusta to our Culture Blend, to give it a stronger Caffeine kick and extra body. 
Some of our loyal customers asked about a lighter blend of coffee, and from this inspirational feedback started to process of creating a second blend, the Purely Arabica blend. Initially, we considered blending the lighter bodied, full flavoured beans of South America with some decaffeinated coffee, but the practicalities of blending the different beans made that impossible. 
The New World South American coffees have excellent flavour, but lack the body of the Old World beans, so by focusing on just New World Arabica beans of Peru and Colombia, and blending these without the addition of a Robusta, we created a full flavoured, the lighter bodied coffee, lower in caffeine but not decaffeinated, that was perfect for an after-dinner coffee, when you don't want to full caffeine kick of the Culture Blend. 
However, there was some of our customers still sought high quality Organic decaffeinated coffee, and there was a niche in the market for this. Most decaffeinated coffees are extracted using solvents, which means a lack flavour. Even with Organic coffees, most use the Swiss water extraction method, which although far better than the solvent extraction, still extracts all the flavour out of the beans, before putting it back in. It is only with the more expensive CO2 extraction process, that the caffeine is extracted from the beans, without extracting the beans unique flavours too. It is for this reason, that we chose the Peru HB Grade One Arabica bean, extracted using this method, for our own brand of Decaffeinated coffee. 
Why organic? What makes you passionate about organic farming? Why is it so important

in regards to

coffee growing?

 Organic Farming and food production is at the heart of our business, and we are passionate about O

rganic and sustainability farming. 

During John's visit to Colombia, 

Working

 on farms in Colombia, he saw just how much pesticides, herbicides and 

fertilisers

 were being used in the conventional coffee and cocoa production in South America. 

It is vital to encourage sustainable farming practices 

and support 

FairTrade

 practices that see the farmers in South America, Indonesia 

etc

, get a fair price for their produce, see schools, education

 and

 

infrastructure being put in place, and to stop the exploitation of these farmers for short term gain by Multinational companies, 

so that they, their children, and their children's children, can continue to grow their produce and make a living from the land, as much as it is for Irish 

farmers to embrace sustainable greener practices and look to the future, rather than the next cheque from the EU for some headage scheme. 

By buying Organic produce, can we force a change in the Multinationals, and make change to a more sustainable future, and in order for this to happen, companies like Blakes Alway

s Organic, need to make such products available to the consumer, to give them a choice. 

 
Tell us about the blending and roasting process. Is it more of an art or a science? What is the difference between the blended coffee and the pure Arabica?

Coffee blending and production is both an art and a science, and full credit must go to our Coffee Guru, Georgia,

in The Art of Coffee, 

who does ou

r roasting for us in Carrick on Shannon. Her, state of the art coffee roastery relies on both the computers that are plugged

 into the roaster, recording fluctuations in the temperatures, 

etc

, but also, to her own senses of hearing, listening to the sound

s of the beans crackling as they roast, smell, and sight, checking the 

colour

 of the beans to get the roast just right, and comparing it to previous batches 

colour

.

 
As for the blending, again Georgia was a great font of knowledge, helping to guide us in bean selection. After that, it came down to trial and error, mixing different beans, and combinations, to find what I liked in my coffee, and hoping that what I liked, was also what other people would like. Once I was happy with the bean selection, we tested the proposed blends out with other people, and using a variety of coffee types, to be sure that the blends worked well in an Espresso, Latte, Americano etc.  
Any top tips for brewing coffee at home? How do you like yours?

Personally, I like my coffee as a rich Americano, black and with a spoonful of Stevia to bring out the rich fruity

flavours

 of

 our blends. At home, I 

now 

have a 

relatively inexpensive 

Morphy Richards Brewer that grinds the beans and makes my coffee in the morning. It'll eve

n do it on a 

timer.

 

Nothing fancy, but still produces a decent 

cuppa

. Before that, it was a grinder and coffee press, but the results were the same, an

d grinding fresh beans in the morning is part of my breakfast ritual, and the smell of freshly roasted coffee is a small bit of heaven. I lik

e both the Culture Blend and the Purely Arabica, but as I usually drink coffee early in the day, I would opt for Culture 

Blend at a push, to get that extra boost to start my day.