Here's the exciting story of how we got into Coffee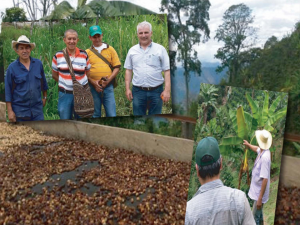 In 2015, John went to Colombia to visit some Coffee and Cocoa farmers there. His mission was to help them to set up a farmers cooperative. The trip was an eye opener on the conditions in that embattled region, but also showed hopes for a brighter future for the farmers there. He visited many farms, using an array of transportation from bouncing on the back of a truck for miles on end, to motorcycles and even riding on the back of a donkey over mountainous paths that no vehicle could travel on. Hopefully, at some point in the future, we can link up again with those farmers and buy their produce for a special Colombian blend of coffee.
Over the following year, a lot of hard work was done in the Blakes office to develop an Irish made product to compliment our quality Swiss chocolate. We looked at getting the chocolate made here, but have come across the same problems that the original owner of Blakes Chocolate did over ten years previous, namely finding someone in Ireland that can make the chocolate to the same level of quality, whilst maintaining its Organic certification, as well as the many other unique selling points of our chocolate.
Eventually, we came to the conclusion that this was not possible, at least not yet. So we looked at other complementary products that could be made here. Coffee was an obvious answer.
Blakes Culture Blend
A year later, we were very proud to launch our locally-roasted blend of coffee beans. Blakes Organic Coffee: – Culture Blend.
Culture Blend is a blend of three Organic coffee beans designed to give our coffee a nice body, with low acidity, and a hint of sweetness. The main bean variety we use is an Arabica bean from Indonesia: Sumatra Mandheling Raja Gayo : The King of the Gayo Mountain. This gives our blend a nice smooth body. To this we add some Peruvian Arabica: HB Grade One, which gives our blend its sweetness and a hint of fruitiness. Then we add a small amount of a quality Asian Robusta for that extra kick of caffeine.
After some experimental roasting and tastings to look at possible blending options, we are confident that this blend is something special. Finally, the first full roasting has been complete, the coffee pouched up and ready for sale, and the smell of freshly roasted coffee fills the air.
We hope that you enjoy our Culture Blend coffee as much as we do…
Blakes Purely Arabica Blend.
Over the next two years we developed the market for our 'Culture Blend' Organic Whole-bean coffee. We felt the time was right to develop a second, unique coffee. Feedback we received from coffee lovers indicated a demand for a blend with a milder caffeine boost. We investigated mixing decaffeinated beans with arabica beans to give a refreshing taste with less kick, but the composition of the decaffeinated coffee beans proved unworkable. We then experimented with South American beans, using the fruity, well-balanced Peruvian Arabica hard beans, blended with a rich flavoured Colombian Excelso Arabica. By not adding any Robusta to the blend, we reduced the caffeine kick.  The result is a mild, yet full-flavoured blend: A perfect after-dinner coffee.
Peru CO2 Decaf
Our Peru CO2 Decaf is made from only Peruvian 100% Organic Arabica coffee beans, using the CO2 decaffeination process. This process uses carbon dioxide to extract almost all of the caffeine from the beans without extracting the rich flavours that are found within the Peruvian Arabica coffee, (rather than being soaked out and then put back in as they do in both the indirect solvent or Swiss Water decaffeination processes).
We then roast our coffee beans in small batches in Co. Leitrim. The resulting coffee is a medium-bodied, well balanced nutty-flavoured coffee with mild acidity and a hint of citrus zest. The coffee performs well as either an espresso coffee or with milk added.